Here we are, summer is winding down, along with the deer flies and the alternately steamy, or dusty days out on the trail. In New England we are blessed with the best fall riding in the country. I suspect other states feel the same, but having ridden in several, I know we take the prize. In New Hampshire, Maine and Vermont, we have it all: mountains, lush valleys, rivers and streams. Miles of old dirt roads, lakes and ponds abound. There are surviving and thriving farmstead communities scattered across the states that help preserve this rich tapestry of landscapes for us to enjoy on horseback or jogging along in our carriages and carts.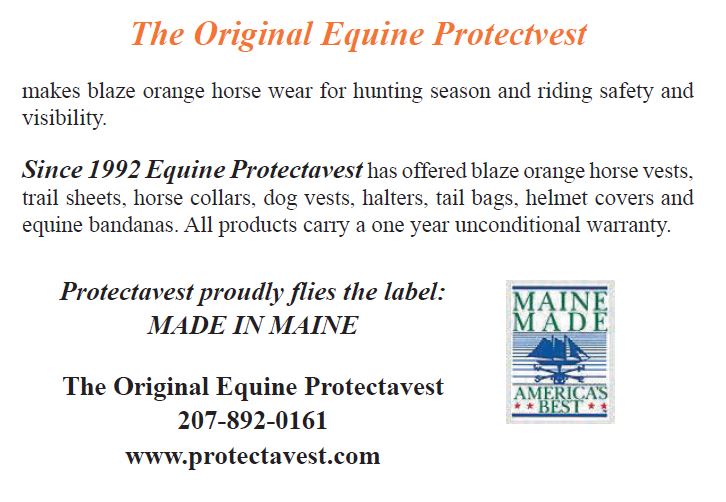 But before we get self-congratulatory about our environmental wealth, we have to acknowledge that others also share the same feelings. Not just hikers and those noisy four-wheelers that spook the horses, but also hunters. Some are out for the sport and comradeship that a group of like
minded folk enjoy (just like we horse enthusiasts).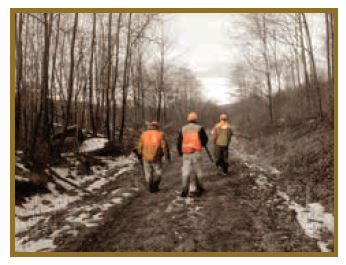 Many in rural areas depend on what they hunt to feed their families. Everyone venturing into the countryside. woods or upland meadows and thickets should understand that there are others using the same terrain at the same time. No one group has an exclusive right to be there if it is open to
the public.
Private property is usually marked and you need to get permission to enter private property.
However, accidents do happen, and they sometimes happen because of lack of forethought by
the parties involved.
This article is to remind all horse enthusiasts to be aware that they and their horses are in potential danger during hunting season. It is important to know when hunting seasons open and close, and be mindful that some hunters may jump the season at either end.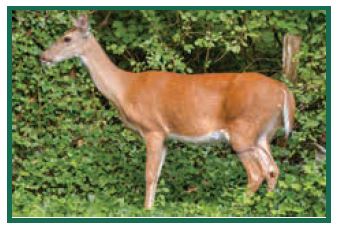 I completed the Hunter safety course given by the State of New Hampshire Fish and Game department a couple of years ago. The information gained helped me understand not only the safety issues, but also how hunters think about their sport. Not all hunters will have taken the course, and some that do won't have absorbed all the safety protocols; so it is important that all riders be aware of potential dangers.
Once the first season opens, you need to be alert. The game animal a horse is most likely to be mistaken for is the white tail deer, but that doesn't preclude an accidental shooting in woodcock season.
The sad story of the farmer who painted COW on the family Jersey comes to mind. The painted label didn't protect her from being shot 'by mistake' ! We shouldn't have to paint *PONY on our equine partners to keep them safe.

There are ways to insure a good margin of safety in the back paddock or out on the wooded trails.
Always ride in a group that makes some noise to alert hunters. A few bells attached to the tack or
conversation between riders warns others of your presence.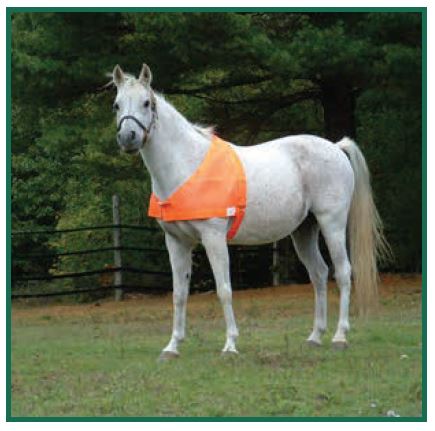 Colorful safety vests and helmet covers are recommended.
Colorful safety vests and helmet covers are recommended. My favorite item is a quarter sheet which covers the loins and hindquarters of your horse under the saddle. This is everyday apparel used out on the downs in the U.K. when exercising race horses.

I've used quarter-sheets here while riding on the winter beaches. If you get a chill they can be brought forward over your thighs. The purpose is to warm the horse's big muscles prior to a strenuous workout, then to keep these muscles from getting chilled as you trailer back to the barn.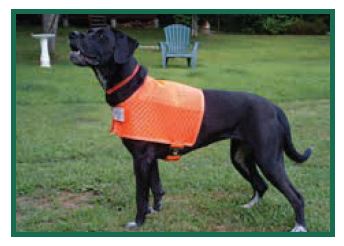 You can make a quarter sheet from fluorescent orange or lime green fleece. The bright color should prevent a hunter from mistaking Secretariat for Bambi. The alternative is to not ride out in the
woods or in isolated meadows during hunting season - a hard choice for those who feel this is the best time of year to enjoy our unique landscapes.

If you look at the listings in this paper, you'll find a wide array of organizations, most of which hold organized ride or drive get-togethers. Join a group or inquire about being a guest of someone you know that belongs. Safety in numbers is at the top of the self preservation list. Plus you
may find new friends and supporters for your particular interests and needs.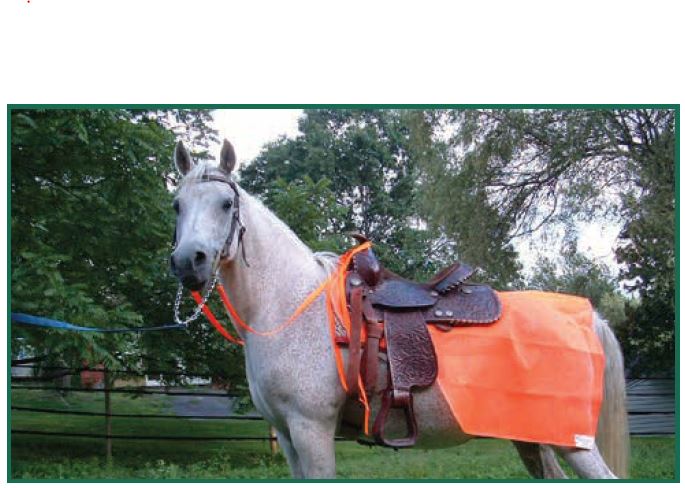 Thinking ahead and being sensible about how we share our landscape is a more positive approach than ranting about 'those dratted hunters'. Hopefully the hunters will be able to get past thoughts of 'those dratted riders, scaring the game away', and we can all share this especially beautiful, but short, season without any accidents.
Happy Trails
Christin

Christin W. Kaiser
Dunneden Springs Forest Farm
Center Wolfeboro, NH
UNH Ext. Advanced Master Gardener
Australian Certified Permaculture
Designer